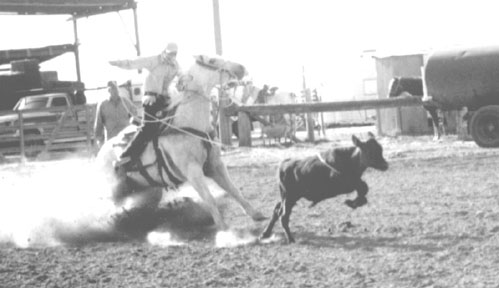 Photo by E. Annette Rose ©2000
Bobby Blaswich on Skipa Star Splash, April 2000.
At this time, this colt is only five years old, with a birth date in March.
Just prior, in February, while he was still a four year old, he carried me to a buckle win heeling at Olivera's arena in Tulare, Ca.
Bobby is in the eighth grade, 13 years old. Both he and "our rent-a-kid", Adam Terry, are roping off Skip at home. Adam will be using Skip at the Jr. Christian Cowboys Association Jr. rodeo in May to rope calves.
In the background is my husband, Danny Rose. Danny purchased this colt at a horse sale in Templeton, Ca. two years ago. At that time, the colt had 60 days riding on him. Working slowly, not pushing him, Dan has brought this colt to the point where you can head, heel, or rope calves off him. When the colt is "thru", he drops his head and walks off calmly.
In Skipa Star Splash's pedigree, you will find he is triple bred Skipper W and double bred Leo. What a combination!!
And you thought you'd see a photo of me? Sorry, but I am the photographer!
earphoto@gonetgo.com
---
For An UPDATE on Skip's progress, presented July 26, 2000.
---