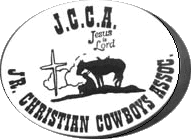 JCCA
Junior Christian Cowboys Association
---
Open to all youths who are a minimum age of eight years [qualified seven year olds now allowed to rodeo] and no older than twenty years of age. Age is determined as of January 1st of the year. The events are broken into two age groups, eight - thirteen and fourteen - twenty. One event, The Littlest Cowboy and Littlest Cowgirl, is held during the "noon" break for those children not old enough to compete in the regular rodeo. So if you have a "toddler" or a child seven years or younger, we have something for them, also.
Purpose of this rodeo organization is to bring the GOSPEL and Fellowship to our youths. Church is the first event of the morning, with attendence not required, but with the hope that you will come worship with us.
---
Welcome to our 18th year of RODEO. We are so excited to be going into our 17th year of sharing the word of God and a day of rodeo with all of you. We have something to share with most every member of your family, so please, do come join in the fun with us.
Congratulations to all the Board Members and Parents who worked so hard to bring this rodeo to our youths. You did a job well done.
---
Should you need information on how to enter these rodeos, or perhaps need directions, you may contact our web person. The appropiate individual will be notified and you will hear from us. Or, use the address provided below.
---
2004 Schedule
Feb. 22 Jr. Rodeo
March 28 Jr. Rodeo
March 30th Jr. Rodeo
April 17 Boys and Girls Rodeo Clinic
April 28 Jr. Rodeo
May 22 Aumni Invitational Rodeo
May 23 Jr. Rodeo and FUND RAISER Auction

June 6th Jr. Rodeo
July 11th Jr. Rodeo
August 14th Finals Rodeo and Awards BBQ

Entries are due two weeks prior to the event unless otherwise stated. To obtain an entry application, contact
Mr and Mrs Ernie (Jeannie) Cardoza at rede2rodeo@aol.com or call 559 923-4585
---
Wanna see some photos?
Aubry's Team Roping Wreck, June 2002
Photo of our Littlest Bull fighter, Dustin Borba.
PHOTO of our CHAMPIONS for 2000
---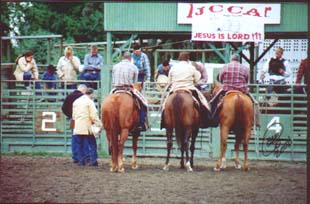 Sunday, 01-Feb-2004 12:31:03 EST
Return to main Rodeo page
Some photos by E. Annette Rose
Photos appearing on these pages are ©by E. Annette Rose
Please sign our guest book