Page Two of the Brag
October 2004
Jim from the Fly'n O Arena, Tulare, CA., presenting me with my saddle.
He had to tell me three times that I had actually won it, I was afraid they made a mistake?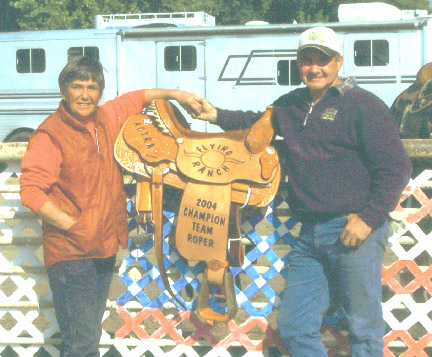 Photo taken October 30, 2004 by Sharon

---
Ah, the man that made this all possible, my husband, Danny Rose.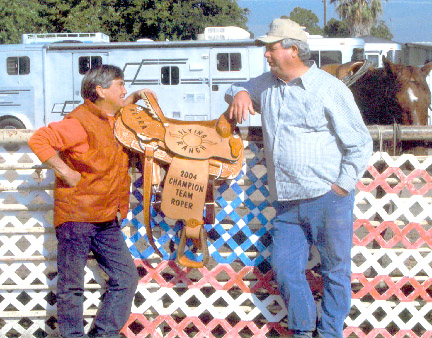 What a kick........I actually won a saddle! This is team roping, so I didn't do by myself. Thanks to two partners, I had enough points to come out on top. Per Pederson turned the two that won the average, plus the fasted in the first go. Bob Hansen turned me the second fasted in the first go. Bob turned me a nice one on the second steer, too...I just missed the steer
. Thanks, guys.
---
---
Backing up a month......this was September 2004 at the ATRA Year End Finals held at Porter's arena in Kerman, CA.
Joycelyn Ragoza turned this steer for me, I snagged two and ultimately won 3rd for the year end plus 3rd for the day. These ropings are 'four steer average' events.....ya gotta rope four steers the fastest to win/place. As a heeler, I had so many 'star' runs that I never really knew if I was roping for points or not. Things turned out alright considering at the second roping of the year, not one steer was turned for me to attempt to heel? I'll take third for the day and for year. They awarded a beautiful knife for 3rd for the year.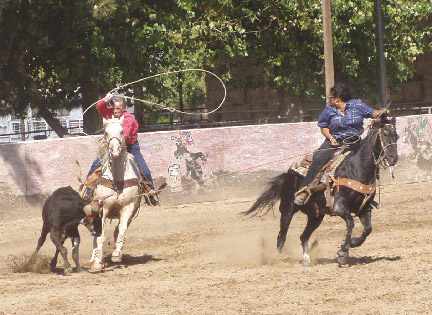 This is how it begins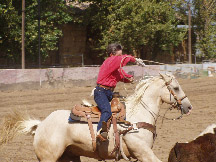 ..........and then, this is how it ends..................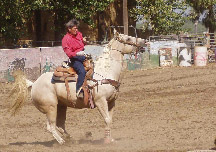 at the end of that rope was a steer, I caught both legs.
Thanks to Bart for taking these shots of me. He had never used my camera, and this was his first time to try his hand at
roping shots. I gave him a quick 'lesson' and think he did real well, don't you? As I am the one usually behind the camera, there
are not many photos of me around.
You can go back to page one of the brag.
---
Some years back, February of 2000, to be exact, while my horse was just a 'young thing', and just a few months prior to the start of my health problems, he carried me to my first buckle win since I was 14 years old. After that, we won another during the ATRA ropings that year. This was an exciting time for me, also. At that time I placed a page showing off the buckle, so if you wanna see the buckle I wear, you can go there. These are my biggest wins, I don't really post everytime I manage to win, honest. I feel blessed to accomplish all this.
The 2000 buckle.
---
Sign My Guestbook
View My Guestbook
The guest book above is not my rodeo guestbook, it is my personal guestbook.
If you can handle more of me, you can always read My Story.
Some day, I may update that page to tell the rest of the story and of how I survived three heart attacks since December 2000?
---