---
Corey Ann Duysen
2004 - 2005 District 6 Queen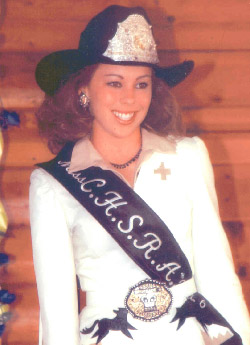 photo by Smith
Hi Everybody! My name is Corey Ann Duysen and I am the 2004-2005 CHSRA District 6 Queen. For those of you who do not know me, I am a sophomore in high school. I am the President of my sophomore class and I stay very involved in Student Council. I am also a member of FFA where I am on the officer team and also show cattle and hogs.
In the CHSRA I compete in Barrel Racing, Pole Bending, Breakaway Roping, Cutting and the Queen Contest. I had a great time representing District 6 at the State Finals in Red Bluff and I am looking forward to a year of representing the Sensational 6 throughout this year.
For those of you who are unfamiliar with the Sensational 6, we have a great team. Last year at State Finals, we came in 1st place in the District Competition. We are hoping for another Sensational year. So for all of you current 6 members we would love to see you representing this great district in all of our Grand Entries and other activities! Good luck to everyone this year!
Corey Ann Duysen
Miss CHSRA District 6
---
Return to CHSRA home page
Return to Rodeo pages
Access our guest book
Join in on the MAIL LIST